Storytime Blog Hop
Halloween
BOO! and welcome to the Storytime Blog Hop! This quarterly edition theme is, what else but Halloween? Talented authors share short fiction stories from 500-1000 words for your entertainment. You're invited to hop around the especially, creepy, scary cyberspace today to read fascinating stories based on the optional theme of Halloween.
Have a safe and happy Halloween!
Warning: My story is based on one of my favorite stories, Edgar Allan Poe's Tell-tale Heart. So it is a bit intense and violent. So if you are very brave, please read on.
Cassandra bent over the kitchen sink and scrubbed the blood spatters from her face with her grandmother's dish towel. Her favorite jean jacket floated in the red cold water in the sink to remove the blood that had soaked her right sleeve and sprayed the rest of the garment. Sobs assaulted her body after she pulled the jacket from the sink with the blue denim now colored crimson. She had ruined the jacket her grandmother had given her before she moved to the nursing home.
Wiping her eyes and her nose with the back of her hand, Cassandra reached down and scrubbed her cowboy boots. They were ruined too by the blood stains and black coal dust. She stomped her feet and threw the wet dish towel on the counter.
Whirling toward the basement door on the other side of the room, she screamed, "Stop it!" She pressed her hands against her ears to block the sound coming from the basement through the closed door.
Her head ached from the constant lub-dub of his heart still beating. Everybody knows Poe's story, The Telltale Heart, is not true. She remembered her English teacher telling the class it was fiction. It was impossible for a dead heart to beat. Then, why could she still hear her boyfriend Jeremy's heart beating? She'd buried him in the coal bin in the basement under all that dirty black coal.
Cassandra paced around her Grandma's enormous kitchen table waiting for the drumming of his heart to stop. Her brown eyes darkened in terror. What if he IS alive? She stopped in mid-stride and marched to the basement door, placing her hand on the doorknob, ready to open the wooden door and check to see if Jeremy was still buried down there. Jerking her hand back, she laughed. If the hammer in his brain hadn't killed him, breathing all that coal dust would suffocate him. Wouldn't it?
Cassandra pulled the heavy wooden chair away from the table and sat down facing the basement door. Sipping her root beer through the plastic straw in the paper cup helped to calm her nerves. Taking a deep breath and relaxing for the first time in two hours, she smiled at her clever plan to extract revenge from the lying fool. Satisfaction crossed her face when she remembered how easily he fell for the concocted story. Jeremy, so willingly, tromped down to the basement when she called him down to check out her false report of a snake in the coal bin. Cassandra knew he would because he loved snakes. Even when he knew grandma's house was so tight, she never had rats, snakes, bats, mice or any other creatures invade the place. He was such an idiot, as well as a cheater! He deserved to die.
Energy sizzled through her body when she remembered the thrill of the kill. Since Jeremy was four inches shorter than her, it was simple to whack him in the back of his head with the hammer when he turned away to search for the snakes. How fortunate for her he fell into the bin making it easy for her to cover him up with scoops of coal. But the job took all the muscle strength she'd developed during volleyball season. She stretched her arms over her head and rolled her shoulders, then sucked the rest of the root beer down until it made that shhhhh sound seemingly louder in the quiet kitchen.
Cassandra cocked her head to listen. No muffled heart sound. Her whole body relaxed with relief, but then another sound invaded her senses. Her heart rocketed into her throat.
Muffled footsteps clumped up the stairs. Jeremy's motorcycle boots were heavy enough to make that sound. She jumped up from her chair and lifted it up ready to use the antique chair as a weapon if Jeremy burst through the door to attack her. Her mouth went dry and the hair on her neck stood up as straight as the bristles on the brush she used to groom her horse.
She rocked from side-to-side waiting for him to open the door. Her arms ached gripping the chair over her head. Why didn't I lock the damn door?
She shook the chair at the door. "Come on out, you cheatin' S.O.B. Come on. I ain't scared of ya'. If you ain't dead now, you soon will be if you open that door!" Her voice ratcheted up higher and louder with every word.
"Jeremy? Jeremy? Come out here, you lily-livered chicken sh-t." She inched to the door and pressed her ear against it. Hands shaking, heart pounding, she set the chair on the floor, but close enough for her to grab it for protection if he was standing on the steps. She twisted the doorknob thankful it made no noise. Easing the old wooden door open just a crack, she sighed with relief when she saw only the long flight of steep stairs. Her mind was playing tricks on her.
Her gut told her Jeremy had to be dead. He just had to be. Poe's story wasn't true. Her ears ached trying to catch any noises. No heartbeat, no breathing, no footsteps came from the dark basement. She pulled the door open wide and joyously clunked down the steps in her heavy cowboy boots. Catching her heel on the step, she cartwheeled down the stairs, smashing her head on the cement floor. Her eyes filled with terror as she lay at the bottom of the steps unable to move. The only sound in the still room was the clacking of the timber rattlers slithering out from under the stairs toward her.
For more short stories, please visit the websites listed below. Who knows? They may be serving treats! Have fun!
Snow White Tabloid Style, by Fannie Suto
Starving Artist, by Samantha Bryant
The Halloween Dance, by Barbara Lund
The Ghost In My Yard, by Elizabeth McCleary
Her Majesty, by Katharina Gerlach
Chris Bridges Posting Storytime Blog Hop. Give her shout out and say Hello!
Black Moon, by Lauren M. Catherine
Poe's Heart, by J. Q. Rose--
You are Here
Hanks A Lot, by Joe Bouchard
In The Gray Lake, by Karen Lynn
The Right Honorable Brotherhood of Spirits, Poltergeists and Ghosts, by Vanessa Wells
Life of a Pumpkin, by Bill Bush
Why Should I?, by Gina Fabio
Reaper, by Juneta Key
Want to listen to scary stories? And celebrate World Audio Drama Day
#WorldAudioDramaDay
?
All for FREE? Now's your chance.
The Timekeeper, written by my talented author friend,
Miss Mae,
will be performed at the 11th Hour Audio Production site today. Replays will be available after that.
Get in the Halloween spirit and discover "original horror to mark Audio Drama Day."
Click this link to take you to the site filled with scary stories.
Hats off to
Owen McCuen
and his production company for bringing us this audio treat!
The Timekeeper by Miss Mae
An indescript antique shop.
Set along an indescript street.
Filled with things not borrowed.
Filled with things not blue.
But filled with shadows and secrets
And one man who keeps the difference.
Step inside Mr. Mortimer's Antique Store.
He has the one item you always dreamt of.
If you'd like to download the short story ($1.49), click on the links below
If you liked the audio performance of the Timekeeper listen

to the audiobook,
Catch Me if You can
, another story by Miss Mae.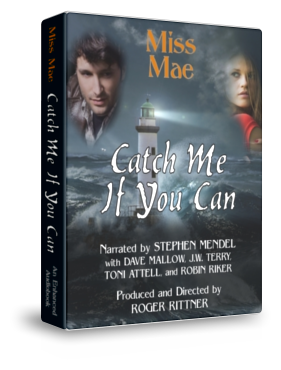 The exciting new romantic mystery, penned by popular author

Miss Mae

.
Washed ashore during a raging hurricane,
Lois Steinberg's shelter, an old plantation house, becomes a terrifying maze
as murders begin to pile up and
Lois races to save her life ...
and keep hidden her mysterious secret.
Click here to listen to a sample from the audiobook.
To download the audiobook,
Catch Me If You Can, Performed by Five of Hollywood's Best Voice Artists:
PulpRadio
And, as if that's not enough to scare you to death on Halloween, here's another Ghost Story from my friend, Sandy Carlson.
Tales of the Lost Schooner by Sandy Carlson
She'll be my guest at the Five Ws of Storytelling right here on November 14. Come back then to discover who, what, where, and when in her MG story, The Lost Schooner.
Back of the Book:
Historical fiction ghost stories set in the mid-1800's
The schooner's captain pulled 12-year-old Honor Sullivan apart from the other orphans. Captain Klaus claimed he needed a strong lad like Honor for a sister he didn't even have. But Honor has a sister – two of them. The last he'd seen of their fuzzy red heads was the end of September, 1854, as they headed down the ship's plank for the Orphan Train, going off to be placed out with a new family.
Tricked by the captain, and sailing around Michigan's Mitten, Honor learns the ropes and duties of a sailor. He passes the time aboard down in the dark hold, listening to Old Salty's tales of shipwrecks and ghosts. The stories won't distract him for long, though. As soon as he can, Honor plans to abandon ship and go in search of his sisters.